British PM Johnson says nation 'past the peak' of disease
By Jonathan Powell in London | chinadaily.com.cn | Updated: 2020-05-01 01:15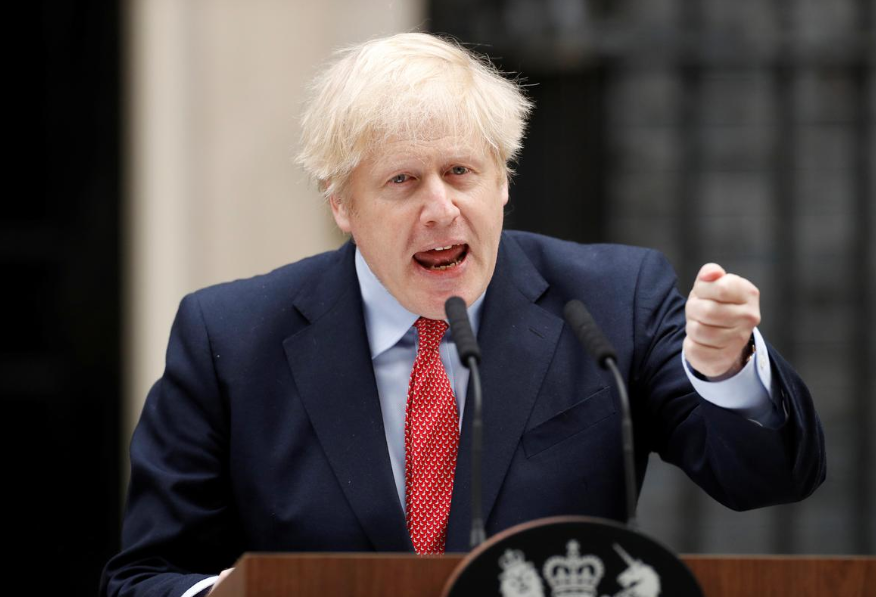 British Prime Minister Boris Johnson led the government's daily novel coronavirus briefing for the first time in five weeks on Thursday, when he said the nation was "past the peak of this disease" and that it was "on the downward slope".
Still audibly breathless at times, after recovering from a COVID-19 infection, Johnson said that a plan for easing the lockdown will come next week. He added that the "entire country" is rising to a challenge "not seen in our life times".
A video shown in the briefing explained the "R" rate of infection, after which the Chief Scientific Adviser Patrick Vallance confirmed the "R rate is down", thought to be between 0.6 and 0.9. Vallance said keeping the rate of infection, or "R", below "1" was critical.
Johnson emphasized that avoiding a second spike of infections could cause "lasting economic damage" and so the government will need to "unlock the economy gradually". He added that he thinks the economy will "bounce back strongly" and the government will want to help the economy to do so.
A Downing Street spokesperson said earlier that social distancing measures will not be relaxed if this would allow the virus to spread "in an exponential way".
The latest UK figures show 26,711 people in the UK have died with coronavirus. A further 674 daily deaths were recorded over the last 24 hours.
Earlier, Johnson chaired a Cabinet meeting where measures to ease the lockdown and efforts to increase much needed testing were discussed.
The nation's Scientific Advisory Group for Emergencies, or SAGE, is working on a range of options for easing lockdown restrictions. The lockdown is due to be reviewed on May 7.
The UK government admitted earlier on Thursday that it would likely miss its target of carrying out 100,000 coronavirus tests a day by the end of April.
Justice Minister Robert Buckland told Sky: "Even if we don't hit it, and it's probable that we won't, we will in the next few days hit that target."
Speaking on BBC Breakfast, he said: "Even if it (the target) isn't met, we're well on our way to ramping this up and 100,000 is an important milestone, but frankly we need more," he said.
"Yes, 52,000 isn't 100,000, I know that... but we are straining every sinew to get there."
Mass testing has been implemented in countries such as Germany, where the death toll is around 6,500, and South Korea, where there have been 247 recorded deaths.
As part of its efforts to understand infection rates better before loosening restrictions on the public, the UK's Health Ministry said on Thursday that it plans to test a randomly chosen group of 100,000 people for COVID-19.
The tests will be led by London's Imperial College and polling company Ipsos MORI, and follow a separate testing program announced last week by the University of Oxford and the Office for National Statistics, Reuters reported.
The UK's lack of personal protectiveequipment, or PPE, for health workers has turned from being an issue of major concern to a national debacle. According to the Guardian, one hospital has now launched a serious incident investigation after the death of a doctor from COVID-19 shortly after he pleaded for PPE.
The paper revealed how Peter Tun, a brain conditions specialist, asked managers at the Royal Berkshire Hospital in Reading on March 23 to ensure he and his team had PPE to reduce the risk of infection. His appeals were rebuffed because he did not have any suspected or confirmed cases of COVID-19 on his unit.
Meanwhile, the UK government must consider the impact of the lockdown on domestic abuse and mental health as it plans its exit strategy, former prime minister Theresa May has said.
Now a Conservative backbencher member of Parliament, May said measures to tackle the novel coronavirus must not do "more damage than the disease itself".
There has been a surge in domestic violent since the lockdown was introduced, a report by MPs said. The Counting Dead Women Project told MPs 14 women and two children had been killed in a 3-week period. The National Domestic Abuse phone helpline, run by the Refuge charity, has seen a rise in the number of calls by 49 percent in this time.