Hardest-hit city reopens Yellow Crane Tower
By Zou Shuo and Liu Kun in Wuhan | China Daily | Updated: 2020-04-30 09:30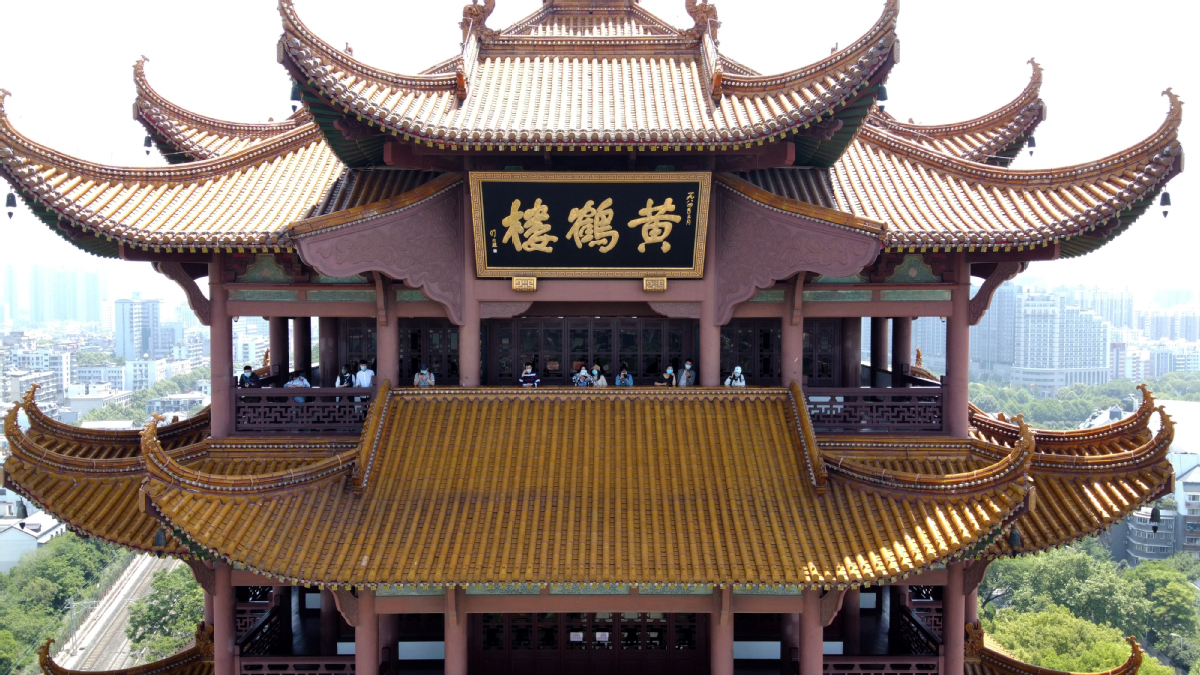 After being closed for 98 days, Wuhan's landmark Yellow Crane Tower reopened on Wednesday morning, marking the latest sign the city is getting back to normal.
Li Lei, deputy director of the park's management office, said it signals that the epidemic is ebbing in Wuhan, Hubei province, and marks the revitalization of the tourism industry in the city.
The park invited volunteers and front-line workers combating the epidemic in the city-including medical workers, police, couriers and reporters-for a special bell ringing ceremony, hoping the city will fully return to normal soon.
All volunteers and front-line workers in Wuhan can get free tickets to visit the park as many times as they want until the end of next year, Li said.
The scenic park will be open from 8:30 am to 5 pm, with the number of visitors capped at 5,400 daily, according to the management office.
Visitors need to book tickets online in advance and scan their ID card or QR code at the entrance to enter the park, following a temperature check and a green health code, an indication they are free of COVID-19 symptoms, the office said.
Indoor scenic areas remain closed; only the main tower has opened its corridors. Visitors should wear masks and keep proper distance from each other, it said.
The park has lowered ticket prices from 80 yuan to 60 yuan ($11 to $8). It has also prepared free disinfectant for visitors and will conduct sterilization and disinfection twice every day.
Hua Yuchen, a music teacher and volunteer who had assumed different posts during the epidemic, said she is thrilled to see the reopening.
"One time, we were exhausted after unloading a lot of epidemic prevention materials from a truck. We saw the tower shimmering in the dark, and it gave us the hope and courage to carry on."
Zhang Yating, a stay-at-home mother, brought her 10-month son to visit the park on Wednesday.
"We stayed indoors for more than three months, and we are beyond happy to breathe the fresh air and enjoy the beautiful scenery," she said.
Cai Shuliang, a volunteer driver, said he came to the park as a reward for his bravery in helping others during the epidemic.
He volunteered to drive patients with chronic disease to the hospital to get treatment and medicine and transported daily necessities to residents from Jan 26 to April 24.
"I will resume work as a driver on Thursday, and I hope that I can make up for the losses over the past three months," he said.
Hubei will open 283 of its major tourist attractions during the upcoming Labor Day holiday in May, with the number of tourists capped at 30 percent of the maximum capacity, the provincial department of culture and tourism said.