New York eateries help offer frontline healthcare workers free meals
Xinhua | Updated: 2020-04-28 11:12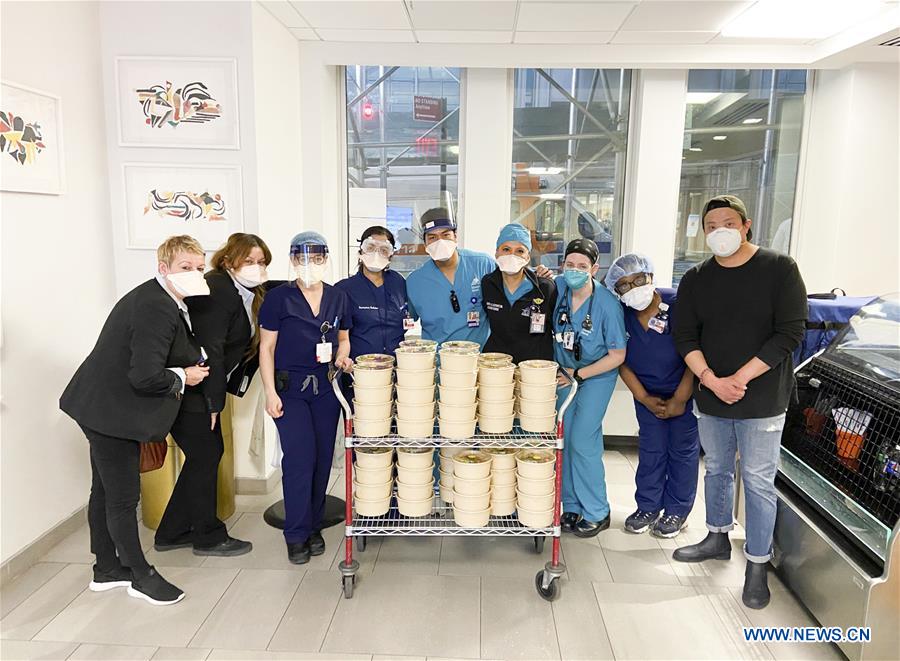 NEW YORK - Restaurants in New York City are playing a key role in providing free meals to frontline healthcare workers and responders as the business and financial hub was hit hard by the COVID-19 pandemic.
Though the catering industry suffers heavy losses from the "stay-at-home" order and social distancing for over a month, a number of eateries in New York City are defying the sometimes deadly virus and have started offering free meals to the people who fight COVID-19 on the frontline.
Junzi Kitchen, a fast-casual Chinese restaurant chain, founded "Share a Meal" program in March inviting its customers and partners to donate meals to frontline healthcare workers, first responders, and hospital staff members.
"Share a Meal" program was born out of need from hospitals as a lot of healthcare workers, with long day and night shifts, often do not have the time or resources to get fresh and healthy meals, said Justin Udry, assistant manager on marketing and technology with Junzi Kitchen.
Every 10 US dollars donated under the program would mean one meal freshly made and delivered by Junzi Kitchen to frontline workers, according to the website of Junzi Kitchen.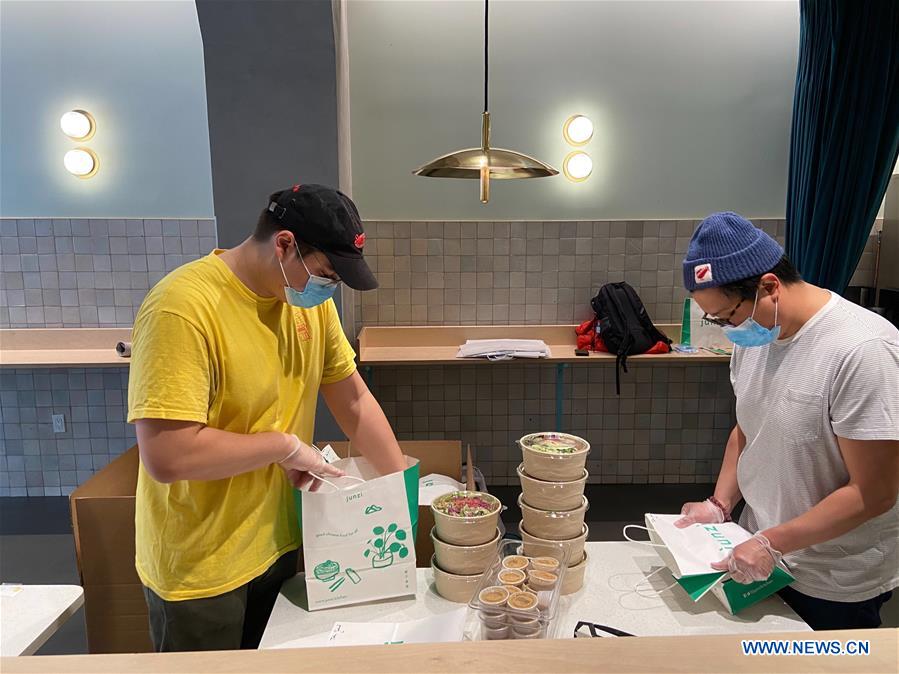 "So with contribution of 10 dollars, you're able to fund a meal that will directly go to one of these frontline health care workers and really keep them going," said Udry.
As of Monday, Junzi Kitchen has delivered 1,811 such meals mostly to healthcare workers from over 20 hospitals like Mount Sinai Morningside hospital, New York-Presbyterian Hospital and Lincoln Hospital in New York City and West Haven VA Hospital in the City of New Haven, according to the eatery.
Junzi Kitchen chose to maintain operations and focus on delivery business while most of regular customers stay out of delivery radius amid the order of "stay-at -home," said Nicky Chang, head of design and strategy with Junzi Kitchen.
Junzi Kitchen would dedicate 100 percent of the "Share a Meal" funds to the production and delivery of meals for frontline healthcare workers and make no profit from it, Chang told Xinhua on Saturday.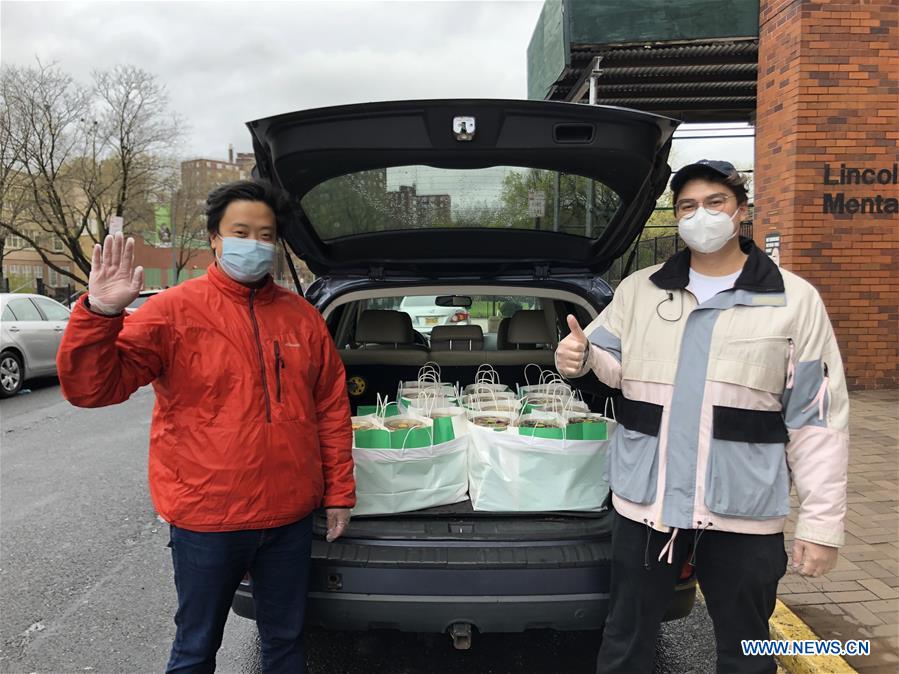 Junzi Kitchen also receives orders from other non-profit organization like meal4heroes, New Haven chapter of Frontline Foods and others.
Besides, Bank of China New York Branch is in the process of donating thousands of US dollars to Junzi Kitchen in addition to its recent donation of personal protective equipment to health care workers, front-line responders and other people in essential services, said a source in charge of the matter with the Bank of China New York Branch.
Likewise, Randi Lockemann, owner of two Brooklyn-based German beer-gardens, decided to raise money and provide free meals to emergency-room (ER) staff with SUNY Downstate Medical Center and Kings County Hospital, after she leant medical workers there were so busy with treating COVID-19 patients that they didn't have time to go out to eat.
Dr. Tanya Faude-Koivisto, a social and clinical psychologist, and Lockemann succeeded in raising 17,460 US dollars via gofundme.com to provide 60 meals a day for ER staff at both hospitals for four weeks, according to a relevant web page with gofundme.com.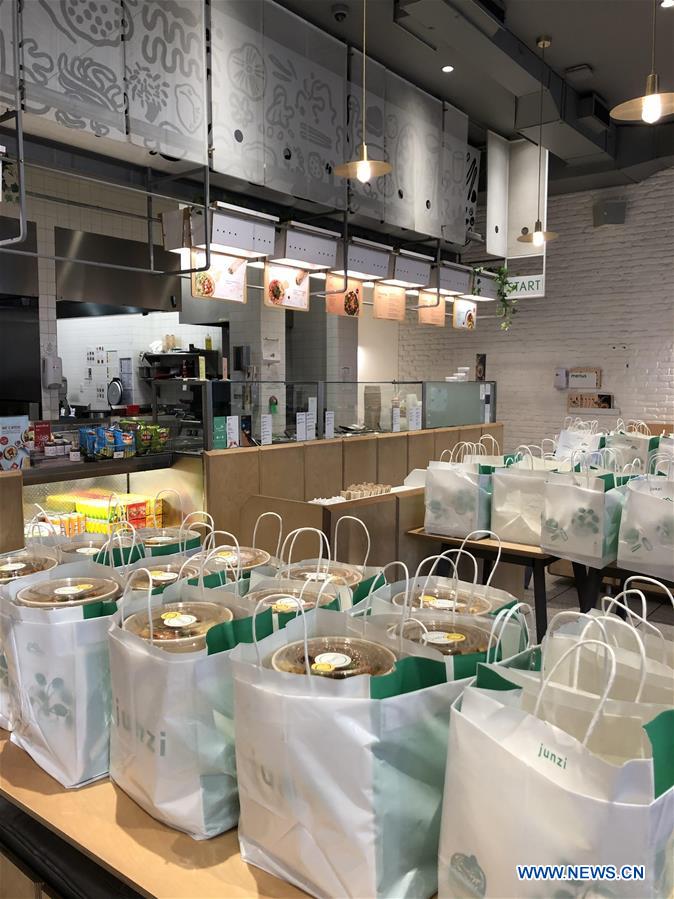 Lockemann and the staff from her beer garden named DSK have been cooking and delivering daily meals for the purpose since April 13.
"Timing is the most difficult thing, having 60 hot meals ready by a certain time requires exact planning," Lockemann told Xinhua recently.
Lockemann said there are not a lot of profits in making the meals and the money raised is mainly used for buying ingredients and rehire old staff.
As of Saturday, a New York-based eatery named as 886 has raised money and delivered over 8,000 bento boxes to hospitals, according to the restaurant's website.
Now, Junzi Kitchen has the capacity to deliver as many as 600 meals each day from its four stores and looks for opportunities to provide free meals to medical workers at Javits Center field hospital and other locations, said Chang.
Chang added that Junzi Kitchen now is short-handed due to risk aversion to COVID-19 and also welcomes information on which medical professionals need free meals.
One needs to be courageous, compassionate and optimistic so as to provide such donated meals to frontline healthcare workers combating COIVD-19, Chang said of her feelings in participating in the process.
If more money is raised, more meals would be supplied to medical workers in the future, said Lockemann.
Meanwhile, big names like McDonald's, Starbucks, Sweetgreen, Krispy Kreme and others are also providing free foods or drinks to medical workers at a larger scale.
Hit hard by COIVD-19, US restaurant industry is expected to lose 80 billion US dollars of sales revenue by the end of April and revenue losses across the sector could reach 240 billion US dollars by the end of 2020, according to a recent release by the National Restaurant Association (NRA).
More than 8 million restaurant employees have been laid off or furloughed since the start of COVID-19 outbreak in the United States accounting for two thirds of total employment in the industry, said NRA citing its survey of over 6,500 restaurant operators.
Donation not only enables food service to heroic medical professionals but also keeps New York City's small business alive, said meals4heroes on its website.
The initiative of meal4heroes has provided over 9,000 healthcare workers in New York City with free meals made by 16 local eateries, according to meals4heroes.