Gong's still got gold in her sights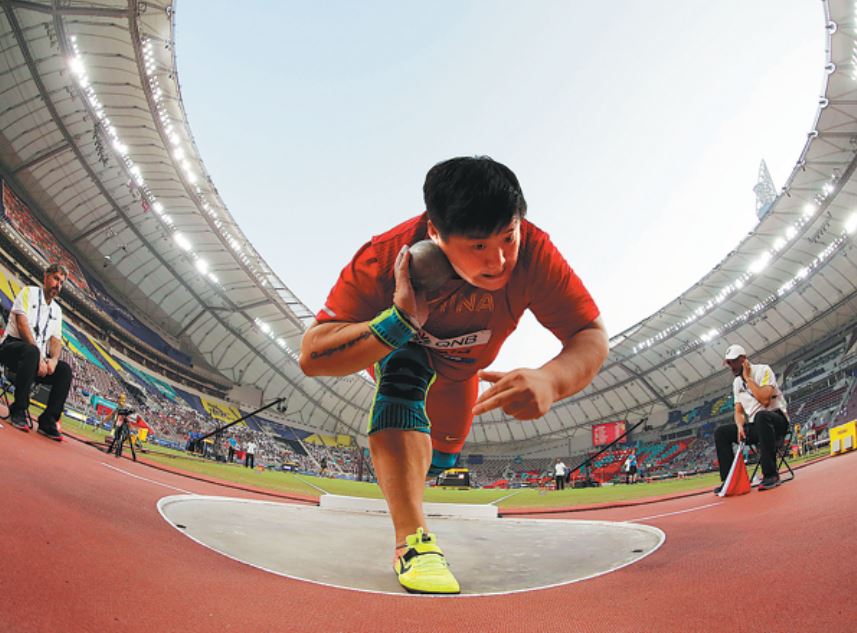 Olympics postponement has changed shot put star's plans-not her goals
The postponement of the Tokyo Olympics due to the COVID-19 pandemic has disrupted the careers and lives of athletes across the globe-especially those who are treating this edition of the Games as their last chance for glory at the so-called "greatest show on Earth".
China's star shot-putter Gong Lijiao counts herself among those ranks.
Prior to athletics' shutdown, the 31-year-old had been widely tipped to add an elusive Olympic gold to her medal collection in the Japanese capital. Now, the two-time world champion is putting a brave face on having to recalibrate and peak next summer instead.
"I can still wait for one more year," Gong told China Sports Daily on Monday from a closed-door national team training camp at Beijing Sports University, where she has been isolated from the outside world for months.
"All I can do now is to keep making adjustments and save my best condition for next year."
Ripping up her plans and starting again, however, must have been especially painful for Gong, given she had dominated the 2019 season-winning 12 golds and one silver at the 13 meets she entered.
Among those triumphs was a gold at the Doha world championships in October, when Gong become only the fourth woman to retain the title.
"I actually had already done some mental preparation before the postponement was announced," she said.
"While the epidemic was gradually coming under control in China, the global situation worsened. It's lucky that the Olympics were not canceled. So everything is not too gloomy."
With all domestic and international tournaments paused by the pandemic, the biggest challenge for Gong is to maintain her competitiveness. In late April, she remains in "winter training" mode.
"With no competitions to enter, I've just kept my winter training going," she said. "I've had to change my entire Olympic preparation plan. This current period of time should have been very important, but now all I can do is just maintain a basic condition. I always have one skills session and one physical strength session each day."
In mid-March, the national team organized a shot put test event at the university. Even with no audience to cheer her on, Gong still rose to the occasion, winning with a throw of 19.70 meters.
After years of grueling training and competition, however, Gong's body is beginning to show the strain.
She is still trying to manage a nagging knee injury and, according to China Sports Daily, last December was diagnosed with mild arrhythmia.
"My heart is fine. The bigger problem is my knee," Gong said. "Earlier, I could only sit to practice my shot. So another priority for me is to recover from the injury.
"The postponement for veterans like me indeed is a challenge. But on the other hand, we do have more time for preparation now."
Strict virus-prevention measures remain in place at the national team training camp, where athletes have been assigned separate rooms.
And, as millions of people around the world will now attest to, isolation sometimes brings emotional and mental challenges.
"When I'm alone, I ask myself how can I cope with the postponement," said Gong. "I tell myself that all will be fine. I still have a chance and nothing good comes easily. One more year means I should change my plan. I should give myself more confidence."
To ease athletes' loneliness and help them unwind from their daily slog, the university organizes table tennis, Chinese chess and pool competitions, with Gong a regular and keen participant.
"Our team always has poker, gobang and Honor of Kings (a mobile e-sports game) competitions," Gong added. "I rarely win, but I enjoy being able to interact with my teammates. It helps lift my mood." Gong, though, hasn't remained wrapped up in her own issues, and has taken a special interest in the plight of Wuhan, the Hubei province capital that was the epicenter of the outbreak in China.
She donated 10,000 yuan ($1,412) to help the city's battle against the virus and also recorded video messages to express thanks and respect toward the medical workers risking their lives on the front line.
"Initially I wanted to buy masks for them, but I really couldn't find any to buy at the very start of the epidemic," said Gong. "So instead I just made the donation to show my love."